-The classroom with its modern pedagogical tools,
-The sodium loop designed for training participants in plant operation,
-The sodium cleaning pit,
-The sodium fire cell,
-The exhibition hall devoted to sodium technology

The Sodium School teachers are CEA and EDF specialists on liquid metal technology (sodium, NaK and PbBi eutectic alloys) who work daily on liquid metal devices.
Trainees benefit from the direct and simple contact with their teachers, both during and after the session.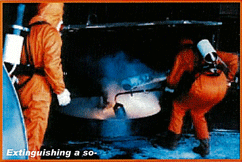 Since 1975, more than 3500 trainees have participated in the sessions of the Sodium School: These include CEA and EDF staffs working at the Phenix and Super Phenix plants and also R&D teams, firemen, members of French and foreign institutes, members of nuclear safety services, engineering departments (AREVA) and the chemical industryc.